Experienced preventive care for a healthier smile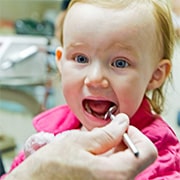 There are no secrets to keeping your teeth healthy for life – just a series of simple preventive steps. We take pride in our patient education programs. Many people today, especially teens and young adults, simply do not know how to prevent dental disease and maintain healthy smiles for life. Our seasoned hygiene team brings over 100 years of combined experience to Dolphin Dental Group. You can rest assured you'll get the gentle, consistent preventive care and education you deserve from your favorite hygienist at every appointment.
Ultrasonic cleanings – Preventive care is easy with our gentle ultrasonic cleanings and soft-tissue programs. Gently performed by our qualified hygienists, our digital magnetically-driven polishing instruments ensure that your teeth are as clean as possible, without scraping.
Nonsurgical gum care – Gum disease is the leading cause of adult tooth loss, but our complete gum and soft-tissue programs mean your smile can stay healthy for life. Always remember, as with most diseases, gum disease is much easier to prevent than treat.
Intraoral cameras – Get a magnified view of exactly what your dentist and hygienist see! Our state-of-the-art intraoral cameras can detect minor problems before they become bigger (and more expensive) ones. We review your digital photos to help you better understand your oral health needs. You can SEE conditions before you FEEL them.
DEXIS CariVu™ Caries Detection-DEXIS CariVu is a compact, portable caries detection device that uses patented transillumination technology to support the identification of occlusal, interproximal and recurrent carious lesions and cracks.
What makes CariVu unique?
Uses transillumination technology that makes enamel appear transparent while porous lesions trap and absorb light
Allows the clinician to see through the tooth, exposing its structure and the development of any carious lesions
CariVu images read like familiar X-ray images
Uses non-ionizing radiation which is ideal for children, pregnant women and patients who are X ray averse
Comments are closed.